- from the LONGFORD NEWS, Friday 24th January 2003, founded by Vincent Gill -
BANJOS RETURN TO LONGFORD
Longford has had a real treat this month, with the return of USA banjo player Tom Hanway. Tom was one of the highlights of the Johnny Keenan Banjo Festival last September, and his visit this month has sparked off some great nights of music around the county. Sessions at Smyth's Pub, Newtowncashel and the Tally-Ho, Longford were certainly enhanced by the addition of American folk and bluegrass tunes.

Last Friday, the Gaelscoil in Longford was treated to a performance of banjo and guitar playing and singing.

The children were entertained, and also taught about the music and the instruments.

They won't soon forget this special visit.

Tom is one of New York's most loved musicians. He is the leading proponent of the "Celtic Fingerstyle" banjo.

He inspired and co-designed the "Tom Hanway Swallow Tail" for one of America's top banjo makers, Geoff Stelling.

The special banjo is the original Celtic-Bluegrass banjo, and was uniquely designed for this purpose. Normally Bluegrass is played with a 5-string banjo, and Celtic music played with a 4-string banjo.

Tom is well adept at playing and singing bluegrass, gospel, blues, Celtic, and even rock music.

In 1998 Mel Bay Publications issues his Complete Book of Irish & Celtic 5-String Banjo. It has been hailed, by some of the top musicians in the world, as the most complete and comprehensive book of its kind.

Tom also appeared in Mel Bay's Master Anthology of Banjo Solos, Vol. 1, which features solos by the world's finest banjo players.

Tom has played onstage with such luminaries as Bill Monroe, Vassar Clements, Peter Rowan, Levon Helm, Clarence "Gatemouth" Brown, and Bill Keith, to name but a few.

He is the founder of the Big Apple Bluegrass Society, an organisation devoted to educating the public about bluegrass, and in 1998, he and his late wife Kathleen founded the Big Apple Bluegrass & Folk Festival, dedicated to the music of Bill Monroe.

The festival has hosted some of the greatest talents in the world, in celebration of this music.

Tom has released a number of recordings, and he is soon to release his most recent, "The Badbelly Project", which will be his first country blues and gospel guitar album.

Featuring cream-of-the-crop guest musicians, including Vassar Clements, Lucy Kaplanksy, Larry Campbell (Bob Dylan Band) and Lincoln Schleifer, Tom dedicates this album to his wife Kathleen, who named the project and encouraged him to keep going and keep sharing his music with people from all over the world.

Tom Hanway will certainly return to Longford in September 2003 for the 2nd Annual JOHNNY KEENAN BANJO FESTIVAL.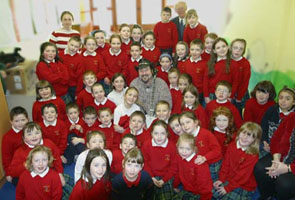 Tom Hanway with the children of the Longford Gailscoil