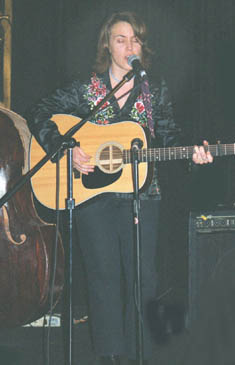 Jen Larson at Big Apple Bluegrass 2000
(photo by Nadina Simon)
Jen lives in NYC and has been singing bluegrass and regularly attending sessions for several years. Among her many bluegrass and country influences are Bill Monroe, the Stanley Brothers, Hank Williams, Del McCoury, Dolly Parton and Hazel Dickens. She laid down a vocal track (in one take) for banjoist Terry McGill's bluegrass CD, produced by Todd Collins. With The Wheel Hoss, she sang her heart out at Big Apple Bluegrass 2000 and 2001.