The Big Apple Bluegrass & Folk Festival was an annual roots music festival, held the second weekend every November in Greenwich Village, NYC, respectfully dedicated to the life and memory of Bill Monroe (1911-1996), "The Father of Bluegrass."

Art imitates nature; like nature, musical art is an adaptive living tradition, encompassing continuity and change, past and future, conservation and innovation.
---
---
---
---
New Yorker Tom "Banjo" Hanway with the original Tom Hanway SwallowTail Deluxe Banjo (1998), made by Stelling Banjo Works, Ltd., Afton, Virginia (No. 4737)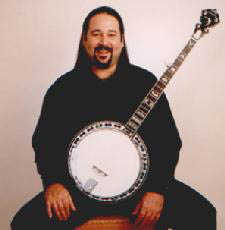 Tom Hanway's Adventures in Ireland
More pictures of Tom
Tom Hanway

Founder of the Big Apple Bluegrass & Folk Festival
---
Big Apple Bluegrass Festivals Past
2002
2001
2000
1999
1998
---
The Big Apple Bluegrass Society (BABS)
presents two weekly bluegrass sessions in NYC:
Bluegrass Country
Sundays ~ 4pm till 7pm
Paddy Reilly's Music Bar,
519 2nd Avenue at 29th Street, Manhattan
Good Times Jam Session
with host Sheriff Uncle Bob
Wednesdays ~ 9:00 pm till late
The Baggot Inn,
82 West Third Street, Manhattan
Irish Session at The Baggot Inn (2002)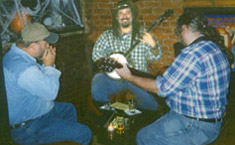 Harmonica Bob Meehan, Tom Hanway, Tony DeLello
(photo by Denise Conroy)
---
Look for the new album
"Big Apple Bluegrass"
by the Greenbriar Boys, available on Vanguard Records.