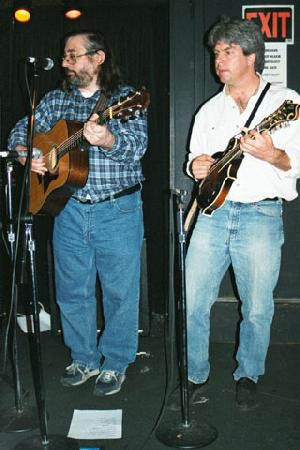 Tony DeLello and Todd Collins
at Big Apple 2000
(photo by Nadina Simon)
Initiating a Big Apple Bluegrass Society tradition, Jen Larson chose Tony to succeed her in the BABS spotlight for his generosity at sessions and behind the scenes, as well as for his dedication to bluegrass as a multi-instrumentalist, teacher, and occasional session host.
Tony is a mainstay player at BABS jams.He picks bluegrass guitar, mandolin, and the doghouse bass, and sings lead and baritone.
An accomplished country blues and jazz guitarist, Tony has worked with saxophonist Doug White (band leader for singer Annie Ross), Cumberland Gap, Blue Horizon, and Jen Larson &The Wheel Hoss. Among his many bluegrass, jazz and country influences are Hank Williams, Merle Travis, Luke the Drifter, Bill Monroe, Clarence White, Joe Maphis, Bob Wills, Eddy Lang, Django Reinhardt and Doc Watson.
Tony may be reached at most BABS jams. He lives in the Bainbridge section of the Bronx.